2019 Land Rover Discovery Sport Towing Capacity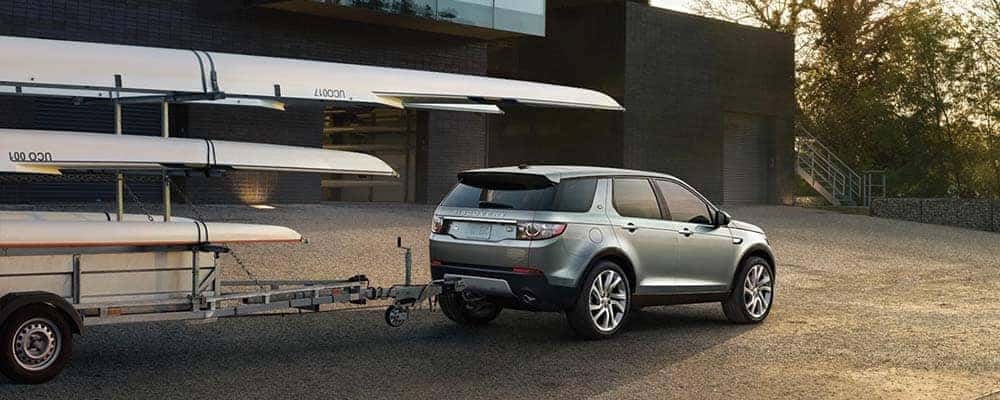 Interested in the 2019 Land Rover Discovery Sport towing capacity? If you have large loads to haul around Rumson or need a trailer for activities in Red Bank, NJ, then this is useful information to know, especially for those who have been browsing the new Discovery Sport inventory at Land Rover Monmouth.
How Much Can the Discovery Sport Tow?
The 2019 Land Rover Discovery Sport can tow a maximum of 4,409 pounds. This is thanks to a 2.0L turbocharged Jaguar Ingenium four-cylinder engine that can make either 237 hp and 251 lb-ft of torque, or 286 hp and 295 lb-ft of torque, depending on the tuning and trim level. Also noteworthy is that the Discovery Sport can pull an unbraked trailer that weighs 1,653 pounds.
Towing Features
There are certain features that make the 2019 Land Rover Discovery Sport even more capable and confident with its towing. Such features include:
Trailer Stability Assist: This system monitors your Discovery Sport and detects movements in the trailer. It then uses selective braking to correct potentially hazardous situations
Hill Descent Control: Standard on all Land Rover Discovery Sport models, this system helps you remain in control during steep descents by maintaining a constant speed and applying brakes separately to each wheel.
Adaptive Dynamics: This optional system reacts to driver inputs and instantly gives greater control for a more balanced ride.
Torque Vectoring: Boost agility and stability when going around corners.
Surround Camera System: The Tow Assist feature incorporated in the Surround Camera System helps with reverse maneuvers. It predicts your trailer's direction, and you can even input size for more precise guidance.
Accessories
Additionally, you can opt for different accessories for to accommodate your 2019 Land Rover Discovery Sport towing capacity needs, such as:
Tow strap
Towing receiver
Target tracking stickers
Tow hitch
Towing electrics
Browse Land Rover Specials at Land Rover Monmouth
Take advantage of the 2019 Land Rover Discovery Sport towing capacity when you finance your own at Land Rover Monmouth close to Red Bank. If you're looking to save without compromising utility, check out our pre-owned vehicle specials!
Interested in the latest Land Rover Discovery Sport? Check out the interior of the 2020 model today, or compare the Land Rover Discovery Sport vs. BMW X5!