What is the 2020 Range Rover Evoque Towing Capacity?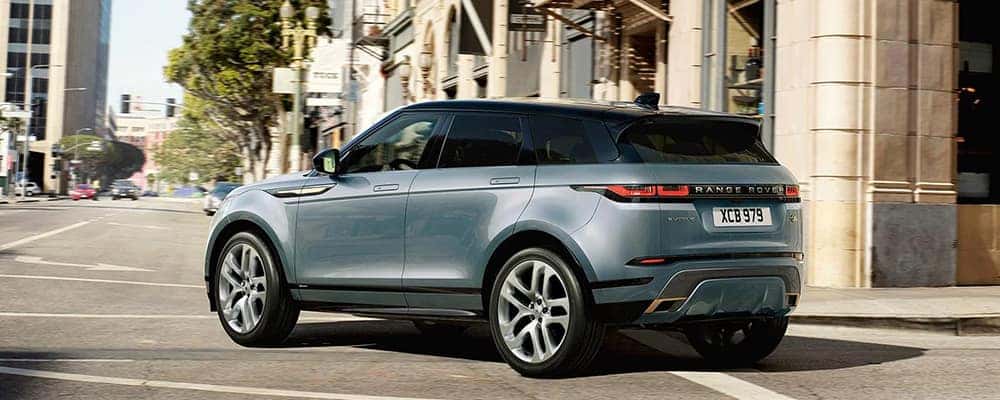 Are you considering a new 2020 Range Rover Evoque? If you're the adventuring type, you're probably wondering, "How much can a Range Rover Evoque tow?" Although this Land Rover SUV is compact and practical, it's more than capable of towing heavy loads. In fact, the 2020 Range Rover Evoque towing capacity comes in at an impressive 3,968 pounds!
Take an in-depth look at the Evoque towing specs and performance features by reading on!
How Much Can My Range Rover Evoque Tow?
Although the 2020 Range Rover Evoque is available in a variety of different trims and configurations, each offers a maximum towing capacity of 3,968 pounds. That's right: No matter which model you end up settling on, you'll have what it takes to tow a wide range of cargo suitable for transport on a small trailer.
Think that you might need more power? You'll want to take a closer look at the Range Rover Sport towing capacity or the Land Rover Discovery towing capacity today.
Which Range Rover Evoque Engine Should I Choose?
Although all of the Range Rover Evoque models can tow roughly the same amount of cargo, there are still important options to consider if you're looking at the available upgrades. Just for starters, it's important to note that while the standard Range Rover offers a 2.0-liter 4-cylinder turbocharged gas-powered engine, a more powerful MHEV variant is available in R-Dynamic builds.
Here's what you can expect from each:
2.0L 4-cylinder Turbocharged Gas

246 hp, 269 lb-ft of torque
Curb weight of 3,935 pounds
Gross vehicle weight of 5,355 pounds

2.0L 4-cylinder Turbocharged Gas MHEV

296 hp, 295 lb-ft of torque
Curb weight of 4,075 pounds
Gross vehicle weight of 5,400 pounds
Since the MHEV (Mild Hybrid Electric Vehicle) configuration is a little bit heavier, you won't be able to tow or haul quite as much cargo. However, since the difference is so small, and the MHEV configuration offers significantly more torque, we believe that it's the preferred option for towing. If you're searching for a more powerful suite of engines, compare the Range Rover Evoque vs. Range Rover Velar.
Looking for a little something extra? Check out the Range Rover Evoque SE. We'd be remiss if we didn't mention that the Evoque is also available as a convertible.
Advanced Features for Easy Towing
Adaptive Dynamics – By checking road conditions up to ten times per second, your Range Rover Evoque SUV's Adaptive Dynamics ensure a smoother, more controlled ride.
Independent Braking – The Range Rover Evoque also automatically corrects for understeer. It channels power to the areas where it's most needed, by deploying independent braking as you travel around a curve.
Active Driveline – With the Range Rover Evoque SUV's Active Driveline technology, your torque will be automatically transferred to the wheels with the best grip.
ClearSight Ground View – With this world-first feature, you can look directly beneath the vehicle when you're moving over a patch of difficult terrain. This means it's easier than ever to go off-road, even if you've hooked up a trailer.
Experience the Range Rover Evoque in Person!
How much can a Range Rover Evoque tow? More than enough to power your Colts Neck and Red Bank adventures! If you're ready to experience the Range Rover Evoque performance for yourself, don't wait to schedule your test drive. Check out the Range Rover Evoque interior and find your favorite new Evoque for sale today!